Summer Reading Program June 25 – August 23, 2018
See the links below for all you need to know about Summer Reading at  the Galway Public Library. And check out our Youth Services page for lots
Summer Reading Program participants, please be sure that your reading minutes and "Library Olympics" rows completed are turned in by Friday, August 24, the day after our Salsa Party.
We will be drawing the winners of the prizes on Saturday, so everything needs to be in before then. You can submit your information at any time before the 24th.
We have some amazing readers and participants accumulating a lot of stickers on our chart. Our kids should be very proud of themselves.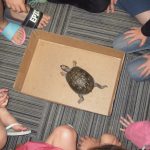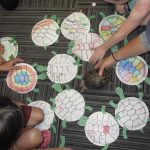 Above: "Daisy," the Eastern Box Turtle, from Wilton Wildlife Preserve & Park, and the kids making their own turtles.
Summer Reading Program Sign-up Info — includes information about  a New York Reads program, called MyON, offering free e-book borrowing from April 30 to September 30.
Adult Summer Reading — This summer, adults can have fun reading too!  Register at the library.  Keep track of what you read, rate the book, and enter the rating form to win a prize. 
Summer Reading Program Calendar List — includes programs presented by Brookside Museum, the Tang Museum, Wilton Wildlife Preserve & Park (turtles!) and Wildlife Institute of Eastern New York (Silent Wings raptor program!) and much much more (even an overnight at the library!).
As space is limited, please register for programs at 518-882-6385 or galwaylibrarystaff@gmail.com
Free Lunch will be served at 1:00 on Mondays, Thursdays and Fridays, July 9 – Aug. 24, in cooperation with CAPTAIN Youth and Family Services.  Any child under 18 is eligible to receive a free lunch.  Our youth programs are on Mondays and  Thursdays, so  a child can come for lunch and stay for the scheduled activities.
Ages are suggestions only; interested older children and younger children with an adult are welcomed.
We have a fun bunch of prizes for our readers and program attendees this year! See the list here: Prizes Summer Reading Program 2018.
Many thanks to all of our sponsors and donors to our Summer Reading Program:
A.C. Moore, Saratoga Springs
Galway Family Insurance Agency
Hannaford
Schenectady County Cornell Cooperative Extension
Friends of the Galway Public Library
Stewart's Holiday Match
Leisuretime Greenhouses
Village Home & Garden
Justin's Pizza