Thank you to all who attended the Library's Groundbreaking Ceremony for our new building on June 30th at 1:00 on the library's property on 2110 East St. in the Village of Galway. It was a great turnout in spite of the heat!
Photos in this section courtesy of Robert Thorpe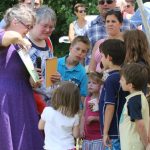 Photos below by Margie Prasek
Photos and text below from Senator James Tedisco's Facebook page:
"Today was a day many of the residents of the town of Galway have been waiting a long time for — the groundbreaking ceremony for the new Galway Public Library. This will be a beautiful new facility that will be a community center for life long learning and literacy for the residents of Galway. I love libraries and as a member of the Senate Select Committee on Libraries, I helped fight for in the state budget a $1 million increase in library aid and a $10 million increase in capital project construction aid for our libraries — $140,000 of which is going to the Galway Public Library. I was especially pleased to announce today an additional $100,000 state grant that I have secured for the Galway Public Library to apply for to help them complete the funding for this new facility. Great job by Library Director Debra Flint, Library Board President Arlene Rhodes, the Friends of the Library and all the businesses and supporters who helped make this special day possible. I can't wait for the ribbon cutting!"
Text and Photos below from Assemblywoman Mary Beth Walsh's Facebook page:
Not even 90 degree heat would get in the way of the Galway community coming together on Saturday to celebrate the ground breaking for their long-awaited library. All of us were thrilled and surprised to hear of a $100,000 grant from Senator Jim Tedisco, and a second $100,000 donation from Stewart's Shops and the Dake family! The new library will be an amazing gathering place for this community, and I can't wait to cut the ribbon sometime next year!