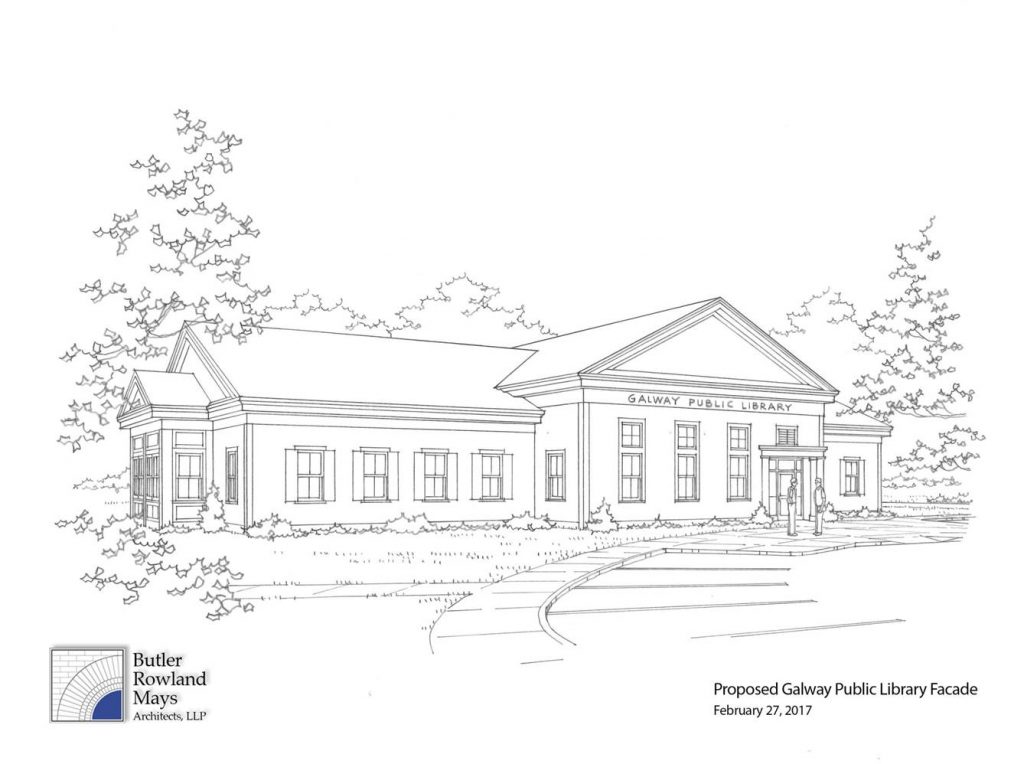 The Galway Public Library is a vital center of the Galway community, providing learning resources, technological tools, programs, classes, meeting and public forum space. The current building is too small (only 1800 square feet) to meet the needs of services, programs and space. The library serves more than 7000 within the Galway School District, but can accommodate only 23 at a time, with parking for just five cars.
The architectural firm, Butler Rowland Mays, has prepared a conceptual design for a 5930-square-foot building that will become the social and informational center of Galway. The new library will be equipped with resources needed for lifelong learning. It will reflect the architectural heritage of the Village and be situated on East Street, Galway.
The Galway School District Vote on the construction of a new Library Building will be held along with the Library Annual Budget Vote and Board of Trustees Election.  It will take place on Wednesday, June 14, 2017 from 10AM to 8PM at the Galway Town Hall, 5910 Sacandaga Rd, Galway, NY.
The plan to be voted on is smaller and less costly than the one previously proposed. The Board of Trustees has held several meetings with community representatives, gathering feedback on the kind of library building which community residents can support, to provide the services residents need and want.  
The Basics:
Building Size    5,930 square feet
Architects' Estimated Total Project Cost    $2,567,000
Bonded Indebtedness    $1,150,000
Impact on Taxpayer, owning $200,000 Full-Market-Value Property: an additional $34/Year (includes extra operating costs in a new building)
More Information Available:
There will be a public information meeting at the Library on June 7 at 7PM to discuss the budget and the new building.
The Referendum:
(June 14th, 10:00AM – 8:00PM at Galway Town Hall)
PROPOSITION #1:    "Shall the budget for the Galway Public Library for the fiscal year 2017-2018 be approved and the amount of $154,340 be raised for such purpose by taxes levied on all the taxable real property within the Galway Central School District?"       
PROPOSITION #2:  Shall (1) the Board of Trustees of the Galway Public Library (the "Library") be authorized to construct a new Library building to be located on East Street in Galway, New York, including the acquisition of equipment, machinery, apparatus, appurtenances, site work and other improvements, and expenses in connection therewith, at an estimated maximum cost of $2,567,000, and expend such sum for such purpose; and (2) the Board of Education of the Galway Central School District (the "District") be authorized to levy the necessary tax therefor, to be levied and collected in annual installments in such years and in such amounts as may be determined by the Board of Education; and in anticipation of the collection of such tax, issue bonds and notes of the District at one time or from time to time in the principal amount not to exceed $1,150,000, and levy a tax to pay the interest on said obligations when due?
VACANCIES ON THE BOARD OF TRUSTEES:  To elect three (3) Trustees of the Galway Public Library for either the remaining years of a five-year term or for one of two five-year terms: one commencing on June 14, 2017 and expiring June 30, 2020, to succeed Paul Ashman who resigned effective March 2, 2017, and who had been appointed to the seat vacated by Jim Hodsoll who resigned effective November 3, 2016; and two commencing on July 1, 2017 and expiring on June 30, 2022, to succeed Phyllis Keeler and Arlene Rhodes.
Voting Information:
Petitions for trustee candidates are available at the library and need to be returned to the library with signatures no later than 30 days prior to the vote (May 14). More information and member qualifications are available here: Board of Trustees Positions
There will be voter registration days on May 2 and May 31 from 7:30AM to 3:30PM at the school.
Absentee ballots may be applied for at the school office from Linda Casatelli.  Applications must be received by her at least 7 days prior to the vote if the ballot is to be mailed to the voter, or on or prior to June 13, 2017, if the ballot is to be delivered personally to the voter.  The absentee ballots must be received by Linda Casatelli no later than 5PM on June 14, 2017.
Frequently Asked Questions
How close are we to having a new library . . . when will it be built?
The land has already been purchased
A referendum asking for the community's support will be held Wednesday, June 14, from 10 a.m. to 8 p.m.
More than one-third of the funds have been committed
Groundbreaking is anticipated in the spring of 2018; completion is targeted for spring of 2019
How much will the entire project cost?
Architects' Estimated Total Project Cost: $2,567,000
How will it be paid for?
The project will be funded from public and private sources. While many libraries fund their building projects solely through taxpayer support, the Galway Public Library has launched a vigorous capital campaign to raise a substantial share of the building costs, greatly reducing the impact on taxpayers.
The breakdown is as follows:

Bond to be approved by Galway taxpayers at the June 14,2017 referendum: $1,150,000
Capital Funds, grants and pledges as of March 2017:                                            $1,164,000
Fund drive goal (grants and contributions still needing to be raised):               $253,000
How much more will I pay in taxes for the new library?
For a taxpayer owning a $200,000 Full-Market-Value Property: an additional $34/Year (includes extra operating costs in a new building)
Has the library leadership made a financial commitment to the capital campaign?
Yes. All members of the Library Board of Trustees and the Board of the Friends of the Library have pledged funds to support the capital campaign.
What if you do not raise the entire amount?
We are committed to building a new library. Construction will not begin until all funds are raised.
What happens to the current library building?
It will be sold after the new library is built.
What about staffing?
At this time there are no plans to hire additional staff. The new library's design enhances vision lines, enabling staff to observe activities in the library from a central location. Rooms not in use may be closed off. There will be greater overall efficiencies and access to work space for staff.
How will the program room be used?
The program room will be equipped with the technology and accommodations to serve as a multi-function space. The library will utilize the space for classes, arts and crafts projects, performances, art shows and displays, tutoring, meetings, discussions and forums. When not in use by the library, the program room will be available to the community.
What is the overall benefit of a new library to the community?
According to research conducted by the Pew Research Center, 95% of people believe a public library improves the quality of life in a community. Libraries are devoted to promoting literacy and lifelong learning and are specifically designed to offer the resources to do so.
The new library will continue to offer the ability to borrow books, E-books, DVDs, and to be a place to find the answers to questions and research local history and genealogy.
It will be a quiet, comfortable place to meet friends and colleagues, learn a new skill or polish an old one, view the local art/photo and history displays, or walk the nature trails.
Conceptual Plan for New Building Includes:
Room for expanded collections of books and e-books
Expanded children's section and dedicated teen area
A 45-seat multi-function program room available even when the library is closed
More public computers and technology for presentations
Comfortable seating with well-lit work areas complete with free wireless internet
Space dedicated to the study and research of area history and genealogy
Ample parking
Outdoor area available for nature study and programming as well as recreation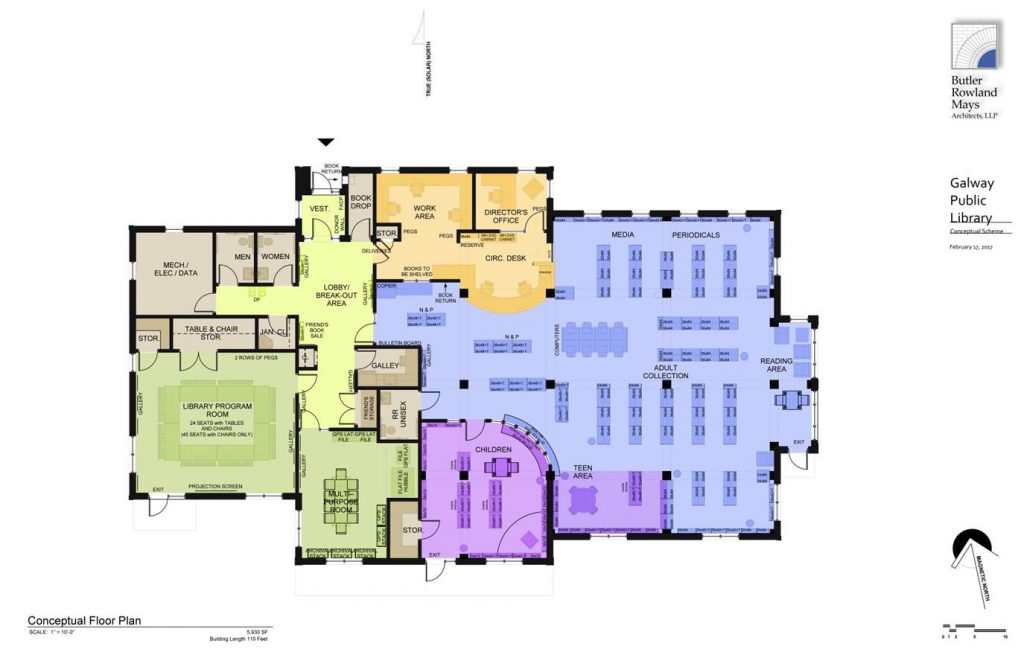 A strong library is an investment in a stronger community, something from which we can all benefit.
We have a New Building Donation Form available to make it easy for you to contribute to your library's New Building Fund. You may print the form, fill it out and drop it off at the library or mail it in. Thank you for your support!