About Us:
Galway Public Library Offers Free Community Resource:
The Galway Get Together: print, email, Facebook, and now the Website Directory!

Find us on Facebook!  You may submit your news at any time. We'll post it on Facebook, and/or in our bi-weekly print editions. Flyers are fine for Facebook, but please continue to send text only for the print versions.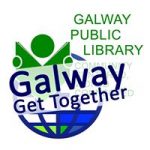 TO SUBMIT YOUR NEWS, EMAIL galwaygettogether@gmail.com.
Past issues of the print/email version are found on the Galway Get Together tab above.
For more information, email galwaygettogether@gmail.com or call the Director of the Galway Public Library, 882-6385.
We are pleased to announce that we have received a 2017 Seed Challenge Grant from SALS (Southern Adirondack Library System.) The $9638 grant is designated for the expansion of our popular newsletter, the Galway Get Together, into a one-stop community resource. This exciting project  increases the coverage and circulation of the GGT, with the inclusion of a Facebook page and a website with a local business directory, space for community news and announcements, and more. We welcome information from local businesses and organizations as we help you reach more of the community with your information. Email us: galwaygettogether@gmail.com.
Mission:
The purpose of the Galway Get Together is to provide a network for sharing information, opportunities, products and services within the Galway community. The bi-weekly newsletter and online presence will promote the locally grown and known.
It is a service of the Galway Public Library, which is responsible for its publication.
Terms:
There is no charge to receive the Galway Get Together or to post items to be listed in the newsletter or online directory. You may  send information by emailing us at galwaygettogether@gmail.com.
The contents of the newsletter may include but are not limited to: community announcements; items for sale; items for exchange; jobs available; help wanted; volunteer opportunities; pets lost & found & available for adoption — and more.
In addition to individual listings, community businesses and organizations may publicize their products or services.
Editors of the Galway Get Together have the option to edit or reject submissions for publication at their discretion.
Submissions may be edited in order to fit in any given print issue.
Submissions may be held for future print editions if space is limited. Every effort will be made to accommodate time-sensitive submissions.
Items submitted multiple times may be edited for length or omitted  from an issue in order to accommodate more time-sensitive submissions.
The Library is not responsible in any way for the outcome of the exchange of goods, services or information between individuals as a result of publication of any listing within the Galway Get Together.
Publication in the Galway Get Together, the Facebook page or on the Galway Get Together website does not indicate, in any way, endorsement of any listings.
Thank you for your interest in the Galway Get Together! The Galway Public Library is pleased to provide this free resource to the Galway community.
updated: April 10, 2017
Archived Press Release: the beginnings of the  Galway Get Together — 
June 2, 2011, Galway, NY …. The Galway Public Library announces the Galway Get Together, a free bi-weekly online newsletter for the community to share local news, products and services, job opportunities and more. The first online newsletter is scheduled to be published June 1, 2011. The community of Galway and surrounding areas may receive and contribute to the Galway Get Together by registering on the Galway Public Library website. Submissions of 25 words or less per listing are invited. Some of the categories for submission are: Help Wanted,Lost and Found, Items for Sale and Trade, News and Announcements. Local businesses and organizations are encouraged to advertize their products, services and upcoming events.
The email newsletter is inspired by the Front Porch Forum, community online newsletters described in Bill McKibben's book, Eaarth. It is a popular means of sharing information about local resources, expertise, opportunities, products, news, thoughts.
"Galway is rich in all of these," says [Mary Cuffe Perez, newsletter editor/Regina Doi,Library Director] and we can all take advantage of them without going very far. It's easy, it's environmentally responsible and it's neighborly. This is not only a way to get in touch, but to share what we know and what we have."
A print-out copy of the newsletter will also be available at the Galway Public Library.
All submissions are subject to editing and review for appropriate content by the Galway Public Library. More information on the Galway Get Together is available at GetTogether.GalwayPublicLibrary.org