It's Time to Grow!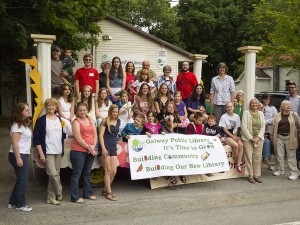 Building Community . . .
Building Our New Library!
A Public Referendum will be held on Wednesday, September 23, 2015 from 10:00 a.m. to 8:00 p.m. at Galway Town Hall for the purpose of bonding the Galway Public Library's new building project. The amount of the bond to be voted on is $1,800,000. The current 1800-square-foot library is no longer adequate for providing necessary services to the Galway community.
Located on land owned by the library on East Street in Galway, the new building will be 7,500 square feet, with a total public/private partnership project cost of $3,142,000. The anticipated date for groundbreaking is late spring 2016, with completion anticipated by summer 2017.
In response to a Letter to the Editor in the Sept. 19 issue of the Daily Gazette, library board Vice President Fred Baily submitted the following letter to the Gazette:
Libraries Are About More Than Just Books 
George Hargrave is the respected former supervisor of the Town of Galway.  His 19 September Letter to the Editor expresses opposition to the new, larger library proposed to serve the needs of the people living within the Galway Central School District.  Modern libraries are indeed about books, but also about considerably more, including Internet access on public computers, computer education, the loan of e-books, the loan of educational and entertainment videos, space for reading and study, programs for children, teens and adults, and space for gatherings including lectures, instruction in the arts, etc. 
The present Galway Public Library serves these needs as well as possible, within a severely limited space, with room for only 23 people at a time and parking for only 5 cars.  The proposed building is comparably sized to the libraries serving neighboring communities, at about one square foot per each of the 7000 people residing within the Galway Central School District boundaries. 
Mr. Hargrave's letter questions the need for four porches and a café.  Two of the proposed porches are weather-protected entries to the wings of the building, permitting entry when the main library is closed.  One is true porch on the south side of building for gatherings in fine weather.  The fourth does not exist.  The planned "café" is not a bistro or restaurant, but rather is a space for a coffee pot outside of the meeting room.
The proposed new library is a $3.362 million dollar project, of which $1.562 million has been or will be raised from sources other than bonding.  The bonded indebtedness to be voted on in the 23 September election is for $1.8 million — about half the total.
Libraries are of benefit to all the members of the community, providing services at no cost to them, raising the overall quality of life of all the residents.
I am disappointed at Mr. Hargrave's decision to vote against the bonding referendum, but respect his right to do so.  On completion of the project, I am hopeful that he finds the new library to be helpful in his lifelong learning and entertainment. 
Frederick G. Baily
VP, Galway Public Library Board of Trustees
Complete voting information for the referendum is on the Galway school website, including forms for registering to vote, and applications for an absentee ballot. If you will be out of town or otherwise unable to vote in person that day, or have voting-age college students, please consider absentee voting. Thank you!
The referendum proposition requests voters to approve a bond of $1,800,000 for the public portion of the funding of the new library building. The cost of the project is $3,142,000, with the remaining amount to be provided by other sources such as grants and private funding.
PROPOSITION
Shall (1) the Board of Trustees of the Galway Public Library (the "Library") be authorized to construct a new Library building to be located on East Street in Galway, New York, including the acquisition of equipment, machinery, apparatus, appurtenances, site work and other improvements, and expenses in connection therewith, at an estimated maximum cost of $3,142,000, and expend such sum for such purpose; and (2) the Board of Education of the Galway Central School District (the "District") be authorized to levy the necessary tax therefor, to be levied and collected in annual installments in such years and in such amounts as may be determined by the Board of Education; and in anticipation of the collection of such tax, issue bonds and notes of the District at one time or from time to time in the principal amount not to exceed $1,800,000, and levy a tax to pay the interest on said obligations when due?
See below for details about the exciting new building project!
"As a mother of two young boys, I use the Galway Library for storytime, to checkout piles of books to keep us busy at home, for the summer reading program and to take advantage of the free passes to places like the Children's Museum and MiSci.  I am so thankful for the vast array of services that the Galway Public Library provides, and for the support of the amazing staff who are helping me to raise little readers!" — Julie Ford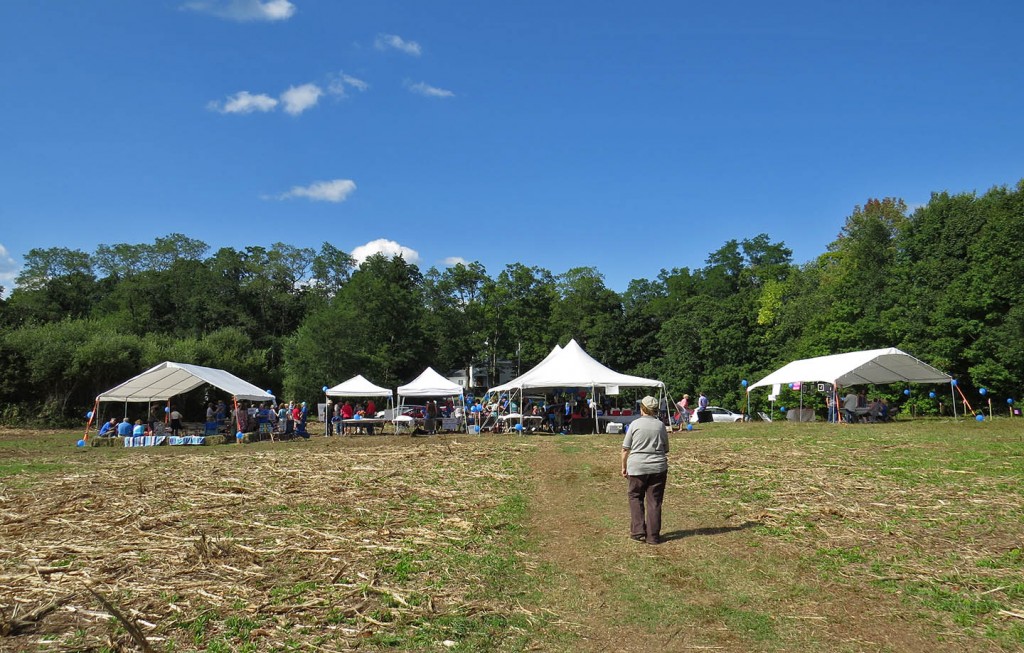 The first community gathering on the new building site: August 23, 2015 Sundae Social
"Promoting / teaching literacy to our children and for the future generations to come is paramount in our existence as a civilized society.  Homes, schools, and community libraries all hold important roles in making sure that this happens successfully.  I am excited knowing the Greater Galway community now needs a newer and bigger public library in order to meet its growing needs!" – Norm Giffin
The library's architects Butler, Rowland and Mays of Ballston Spa provided the following conceptual plans for our new building, based on ideas and requests gathered in community meetings held in February and March, 2014. To see larger views of the plans, stop in at the library.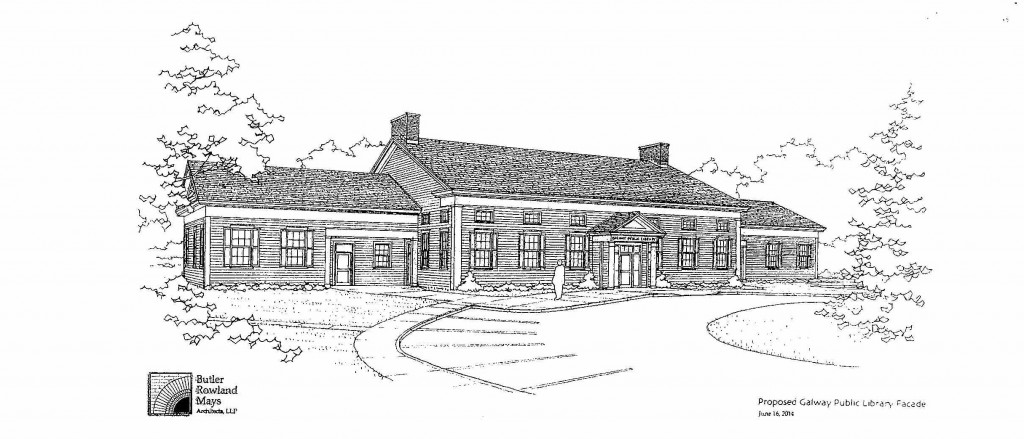 In community meetings, this is what you asked for, and this is how we have answered your requests. We hope you like our plan, which includes:
A larger shelving area will provide room for more books, comfortable seating and complete accessibility.
A Children's Area with room for quiet storytelling, space for more active learning, and access to its own rest room.
A Teen Room with book shelves that can be moved to make space for games and movies and with Wi-fi throughout for all the technology teens want to learn.
A Multi-purpose Conference Room, accessible when the main library is closed, will be available for meetings of the Library Board, Friends of the Library, community groups, and even small business meetings, free of charge. This room will serve as our local history and research area as well.
Our Program Room will be wired for technology classes and available for Friends' book sales, art displays, craft projects, movies, performances, and more. With private access when the library is not open, it will include a coffee station and be available for community groups to hold their meetings when it is not being used by the library. This will be the area for homework and tutoring, and where we can hold our children's Summer Reading Program as well.
Double the number of computers for public use than we have now.
A public work area with a copy machine will provide space to collate materials and work on projects.
An efficient and pleasant office space from which staff can supervise the library.
In short, we are creating what you asked for: a newer, larger, better library for the 7029 residents of the Galway Central School District that will serve us all in years to come. Your new library will be able to provide more services in collaboration with the school and will provide a comfortable, welcoming space for residents and visitors to meet with their neighbors and find new friends.
 "I attended a book discussion at the library a while back that was about my novel Adirondack Justice. While the reception and cozy environment were great, the seating was tight, and had others wanted to attend, we would have been downright overcrowded."  Ron Feulner
Proposed floor plan by Butler Rowland and Mays Architects (6/2014):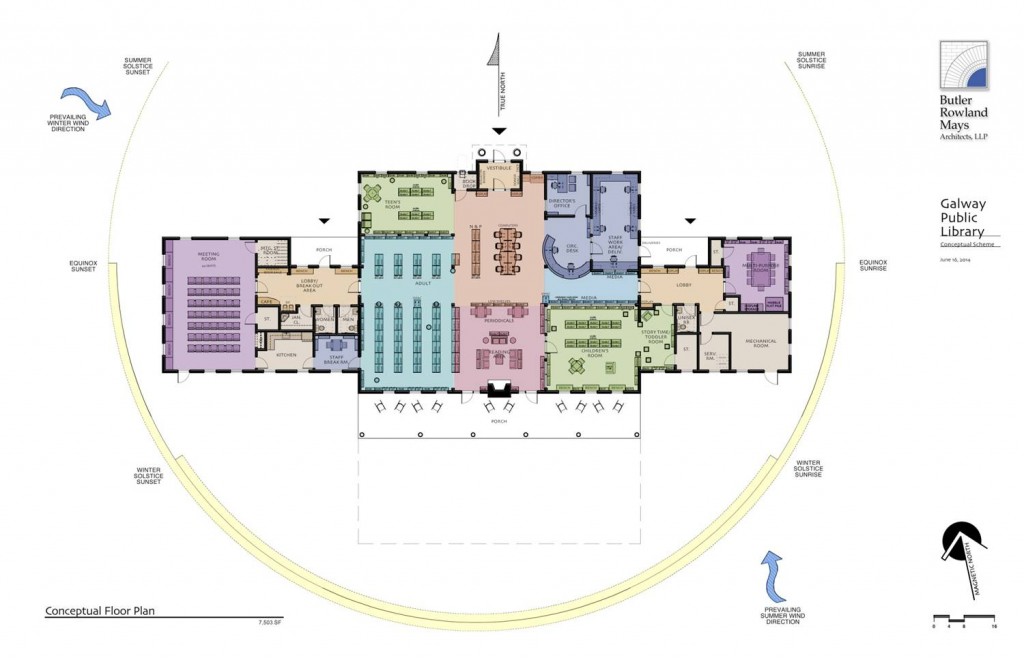 When a young teacher told us 16 years ago that she could not borrow a book from an area library because we were not in their "service area" we knew we had to find a library for our own community. And we did!
Since then, we've gone from no available books of our own to last year's statistics of 29,333 books, movies, magazines and tapes used by Galway School District residents.
But we still have only five parking spaces, and only 23 people are allowed in the library at one time.
We knew the building was too small when we started, but it gave us a library of our own for 16 years, and we are so grateful to all of you who made the Galway Public Library possible.
Now we are planning a new building, with room for all the activities that you have requested through the years.
We hope you will join us in growing a new and better library to serve all the residents of the Greater Galway community.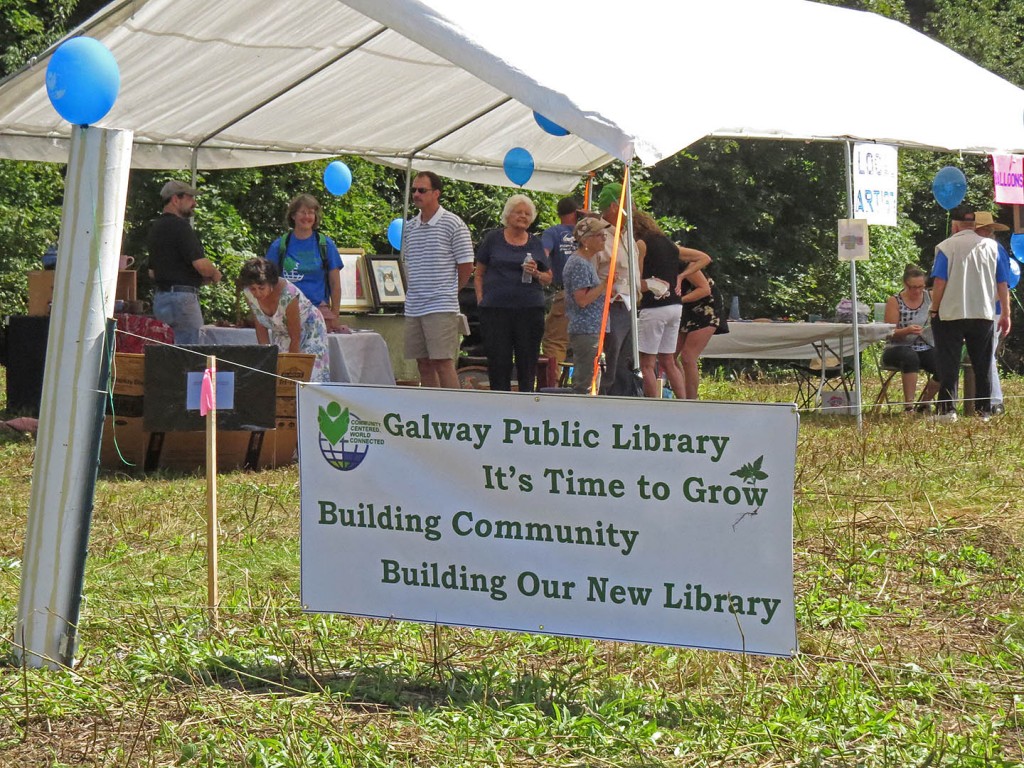 Proposed plot plan by Butler Rowland and Mays Architects (6/2014):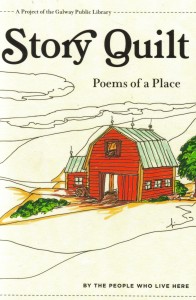 "I moved to Galway and almost immediately became immersed in The Story Quilt Project – a grant-funded library initiative intended to create one-page prose poems out of local folks' narratives about their experiences of Galway.  What a great way to make friends, fall in love with the library and even write a poem that was included in the resulting Story Quilt book!  This was the start of my connection with the Galway Public Library and the rest is, as they say, history!" — Marsha Boelio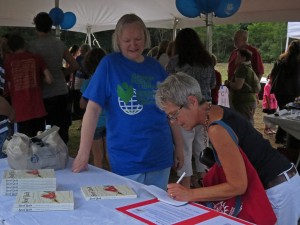 Proposed aerial View by Butler Rowland and Mays Architects (6/2014):