by

Member of the Southern Adirondack Library system, serving the Galway Central School District community.
Galway Public Library – Time to Grow!
Want to know more about our plans for a new library? Visit our webpage http://www.galwaypubliclibrary.org/new-building-project/
Check out our Summer Programs right here or here. 
SUMMER READING PROGRAM – Sign up on the forms below or at the library!
We are pleased to announce that our summer readers will now be eligible for a chance to earn a Kindle e-reader as an incentive for participating in our Summer Reading Program. Two children or adults who have participated in the program will receive a Kindle in a random drawing on August 29th during the end-of-Summer-Reading party! It's not too late to sign up to track your reading and attend the science-based programs based on our theme of Fizz Boom Read! Fill out your reading log at the library and sign up for programs on the Forms tab!
Children's "Fizz Boom Read" Summer Reader Program 
Teen "Spark a Reaction" Summer Reader Program
Adult  "Literary Elements" Summer Reader Program
Already Signed up? No Problem! Log into your Summer Reader Account at http://ny.evanced.info/galway/sr/homepage.asp
Thanks to the Ballston Spa National Bank and Stewart's Shops for supporting our Summer Reading Program. It is also supported in part by funds from the New York State Library's Family Literacy Library Services grant program.  

We are offering amnesty for overdue book fines

(up to $25) for anyone who volunteers to host a Summer Reading program. Even if you have no fines, we'd appreciate your volunteering!

Back to school – probably not the words kids want to hear! But your library is pleased to present a new program to help make the return easier for your children. Back to School Power Hour starts Monday, July 21 at 4:00 and continues each weekday throughout the Summer Reading program, until August 29. Kids will use tablets and other materials to build literacy skills to prepare them for the upcoming school year in a fun and interactive environment with the librarian. Kids can attend every session or drop in as time allows.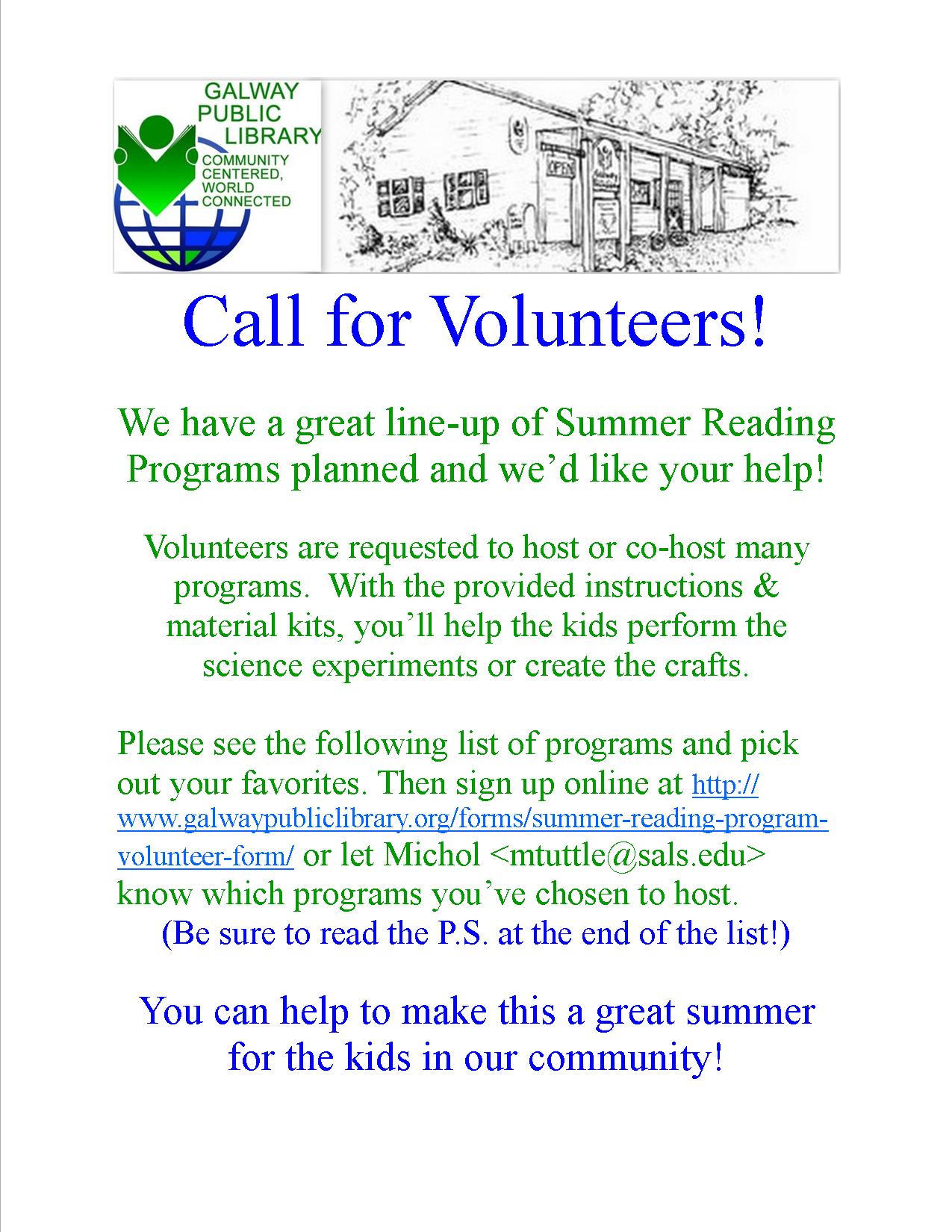 IMPORTANT: CALL FOR VOLUNTEERS FOR SUMMER READING PROGRAM. Sign up here to host or co-host the program(s) of your choice. ********************************************************************************
As part of the Summer Reading Program, we're again offering Movies in the Park, thanks to the Friends of the Galway Public Library. Fridays are Family Nights; Saturdays are Date Nights or Teen Nights. See Updated Movies in the Park (pdf) for more information and to see the list of titles currently scheduled. 
ART IN THE LIBRARY! Do you enjoy viewing the work of local artists? Look up and to the right when you enter the library to see the work of the Artist of the Month. In July, we feature Jan Hodsell. Stop in to see her art!
Are you an artist? Sign up at the front desk if you'd like to participate.
The Galway Get Together publication needs volunteers in order to continue publication! Please contact Michol at the library or at mtuttle@sals.edu for more information or to step up to help out with this important community resource!
We are proud to present a Volunteen program designed to allow teens an avenue to suggest projects, as well as to select projects from a list. If you would like more information please visit http://www.galwaypubliclibrary.org/services/volunteens/
Want to know what's  happening at your library? Please be sure to download and read our most recent newsletter and visit our events calendar.
Our Regularly Scheduled Library Groups
When Readers Meet - our book discussion group – meets the fourth Monday of each month (except December) at 7 pm. 
July 28 – TransAtlantic: a novel by Colum McCann
August 25 – A Light Between Oceans by M.L. Stedman
September 22 - Signature of All Things by Elizabeth Gilbert
The Writers' Group meets on the FOURTH Tuesday of each month at 7 p.m. The group welcomes beginners as well as published writers. Share your poetry, fiction or non-fiction in this friendly, helpful group. To be added to the email list for reminders about meeting dates and other writing opportunities, contact writersgroupgpl@gmail.com.
You can learn more about the group, sample some of their writing, and find inspiration for your own writing, at http://galwaypubliclibrary.org/writersgroup/

Thank you for using Ask Us 24/7 - a service of cooperating New York State libraries and library systems, including the New York 3Rs Library Councils. Click the Ask us Link, enter your question, and a librarian will be with you shortly. You will not necessarily be chatting with a librarian from your local library or even your community. This is a global, cooperative service staffed by reference librarians from New York State, as well as other states and countries.
ROI: The Value of Your Library
Return on Information and Return on Investment. Feel good about how far your library dollar goes- please visit our Library Value Calculator to learn how much you save!
Wire-less Internet at your Library!
See the World from Your Community in Galway, NY. USA