Member of the Southern Adirondack Library system, serving the Galway Central School District community.

Above is a working plan for a proposed new library building. This plan has been developed over the past year, after several meetings with community representatives who provided input on library services and the kind of building which could provide these services. The library Board will continue to listen to the community and work with the architects to develop a plan for a new library building which community residents can support and which will provide the services residents need and want. Additional information is available at the library.
See what kids have been up to at the library; see what's coming up for them to do this month! The January issue of our Newsletter for Kids is here!
We have a New Building Donation Form available to make it easy for you to contribute to your library's New Building Fund. You may print the form, fill it out and drop it off at the library or mail it in. Thank you for your support!
2nd session of our Coding Club – kids creating racing games: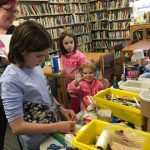 ART IN THE LIBRARY!  Our current Featured Artist is Donna Erickson. Her fiber art looks so warm and cozy! Don't miss this exhibit!
Are you an artist too? Sign up at the front desk if you'd like to participate.
Open Art Sessions for adults with Herb Kopper will resume in January on the 2nd and 4th Wednesdays at 6:00. Herb Kopper is a local artist who will guide you through your preferred art form. Bring your supplies and ideas of what you want to create, and let him help you advance your skills. Or try something new under his guidance! These are open sessions. You do not need to attend each time, but we do request that you register, since space is very limited.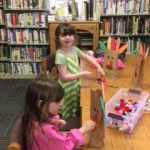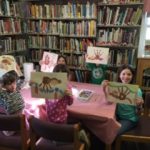 Be sure to check out our Programs & Classes page to find out what's coming up next on our calendar of events! On our Youth Services page you can see photos of some of the fun activities kids have participated in at the library.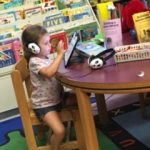 We're always getting in new materials for you to read or view. See our New Titles here.
 In compliance with a New York State construction aid grant awarded during the fall of 2014, it is necessary for the library to complete site improvements to the East Street property.  Galway Public Library Board of Trustees.
If you owe an overdue fine, you may continue to pay it off with cash or volunteer to work off the amounts. Or try our new methods: 1. "Read Down Your Fine" is intended for youths 17 & under. For every 1/2 hour they read (or are read to) in the library, they will get the equivalent of $1 off the amount they owe for overdue fines.  2. "Can Food" supports the GGCSA food pantry. For every can or non-perishable item brought in, we will reduce the overdue fine by $1.00. All methods are only valid for Galway fines and overdues. Replacement costs for lost items are not eligible for fine reduction.
  Tinker Tuesday fun!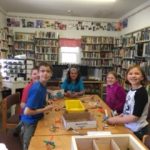 Kids enjoy the Pokemon Club on the first Saturday of the month. Be sure to look at our Programs & Classes page for more photos and to see what's coming up next. Register for a program – learn something new; meet a neighbor; find out all the things your library has to offer!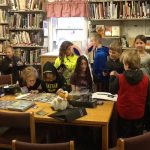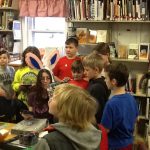 Help the environment; help the library! Check out our fundraiser on this e-waste recycling website: planetgreenrecycle.com/galwaylibrary  and try this cartridge store website: planetgreencartridges.com/galwaylibrary
The Value of Your Library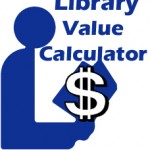 How valuable is your local library? Use this handy Library Value Calculator, created by the Massachusetts Library Association for the ALA, to see how much you save when you use your library services! Feel good about how far your library dollar goes.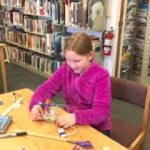 Are you interested in genealogy? Want to find out more about your ancestors? Your library can help! We now offer our patrons access to the online Ancestry.com, Library Edition. Come in to the library and use one of our four public computers to start your search!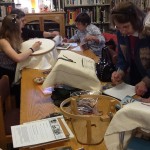 The Galway Get Together is our free community newsletter where you can swap and shop, share news and more. Send submissions to galwaygettogether@gmail.com. Get our current issue of the Galway Get Together. Be sure to check out our Bulletin Board on our Community page to see what events are coming up in our area.  Send your flyers or other information about community events to galwaycalendar@gmail.com or the GGT and we'll post them for you on the Bulletin Board also. 
Have a non-profit, community or business listing you wish to share with the world?  Please visit our directories page to add your listing today!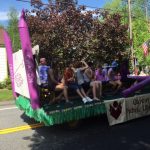 Wireless Internet at your Library!
See the World from Your Community in Galway, NY. USA