by

A member of the Southern Adirondack Library system serving the Galway Central School District community.
Galway Public Library is proud to present a Volunteen program!  This program is designed to allow teens an avenue to suggest projects, as well as to select projects from a list.  If you would like more information please visit our link. http://www.galwaypubliclibrary.org/services/volunteens/
PUBLIC NOTICE
VACANCIES
LIBRARY BOARD OF TRUSTEES
GALWAY PUBLIC LIBRARY
Petitions are now available for members of the public (18 years or older) who reside in the Galway Central School District and are interested in running on June 10, 2014 to serve on the Library Board of Trustees.  Elections will be held to fill two five-year terms and one two-year term.
Applicants may be incumbents or new candidates.
Petitions may be picked up at the Galway Public Library and returned to the  Library Clerk of Elections (Director Michol Tuttle) no later than 30 days prior to the election date.
Anyone picking up a petition must sign his or her name, address, and phone number on a sheet that will be provided.  This information is retained by the Library and is required.  Each petition comes with an information sheet entitled Board of Trustees Petition Information, which provides prospective candidates with information about what the petition entails.
Any questions may be directed to Michol Tuttle,
Library Director, at 882-6385 or director@galwaypubliclibrary.org
More details may be found on the Library Board page here.
                                              *************************
In an attempt to better serve our community, effective April 7th, our fines and loans structure has changed. All DVDs will have a loan period of 7 days (previously 3); subsequently fines will be raised from $.10 to $.25 per day on all Audiovisual material, including audiobooks and DVDs, as well as New Release Books.
All remaining material will continue to carry the $.10 per day late fee.
You will still be able to renew your materials by calling, stopping in, or visiting online.
Check out our Spring Programs right here http://www.galwaypubliclibrary.org/calendar. 
For a quick way to find what you're looking for on our calendar, click the down arrow to the right of the "Agenda" view tab. Leave a checkmark on the categories you're most interested in viewing (Meetings; Children's Programs; Summer Reading; Programs; Technology Programs; or Teen/Tween.)
We are currently putting together the Summer Reading Program. At this moment we have over 50 programs, 18 of which are strictly for Tween/Teens, planned for the summer so far!  Keep an eye out for our call for volunteers!
Do you have a great idea for Summer Reading Programs?  Contact Michol at mtuttle@sals.edu
Stay tuned for more information!
Want to know what's  happening at your library? Please be sure to download and read our most recent newsletter and visit our events calendar.

The Board of Trustees closed on the purchase of approximately 13 acres of vacant land located in the Village of Galway for the future site of the new Galway Public Library facility. Purchase of this land is part of the library's larger project plan to construct a new library building that will provide much needed space for improved access to collections, programs, technology services, community meeting space, and parking, as well as handicap accessibility. Funds for the land purchase of $103,500 came from the Dockstader Charitable Trust ($75,000) and the Library's Capital Fund ($28,500).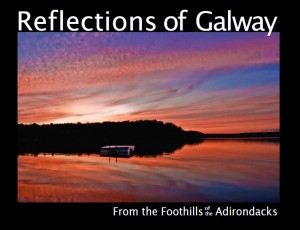 The coffee table book, Reflections of Galway: From the Foothills of the Adirondacks, is once again being offered for purchase at the library for $29.95. Quantities are limited so don't miss out again. See all of the art, photography and writings submitted by your talented neighbors on the Reflections of Galway website.
  ART IN THE LIBRARY!
 Do you enjoy viewing the work of local artists? Look up and to the right when you enter the library to see the work of the Artist of the Month. In April, we feature the oil painting, collage, mixed media and encaustics of Evelyn Frank Hanna. 
Are you an artist? 
Sign up at the front desk if you'd like to participate. 

FREADING E-book download service! No more waiting for the book you want to download and read! Freading™has its own apps for the iPad® and iPhone®, and its own apps for Android™ tablets and phones. Freading is also compatible with the Kindle Fire, the NOOK devices, and Kobo devices. All you need is your Galway Public Library card number!
NOOKs and Kindles- Oh MY!! Be sure to check out our NOOKs and Kindles pre-loaded with best-sellers, newspapers, and magazines!
We have Vinci and nabi digital tablets for kids, pre-loaded with educational programs and e-books available to be checked out!
Let us know what you'd like to see for children's programming, by filling out the survey on the tab above.
Our Regularly Scheduled Library Groups
The Writers' Group meets on the FOURTH Tuesday of each month at 7 p.m. The group welcomes beginners as well as published writers. Share your poetry, fiction or non-fiction in this friendly, helpful group. To be added to the email list for reminders about meeting dates and other writing opportunities, contact writersgroupgpl@gmail.com. You can learn more about the group, sample some of their writing, and find inspiration for your own writing, at http://galwaypubliclibrary.org/writersgroup/
When Readers Meet - Our monthly book group – is a lively reading and discussion gathering, every fourth Monday (except December) from 7 pm – 9 pm at the Galway Public Library. April 28 – The Magician's Assistant, Ann Patchett

May 19 - rescheduled from Memorial Day Never Let Me Go, Kazuo Ishiguro

June 23 – News from Heaven, stories Jennifer Haigh

 

Thank you for using Ask Us 24/7 - a service of cooperating New York State libraries and library systems, including the New York 3Rs Library Councils. Click the Ask us Link, enter your question, and a librarian will be with you shortly. You will not necessarily be chatting with a librarian from your local library or even your community. This is a global, cooperative service staffed by reference librarians from New York State, as well as other states and countries.
ROI: The Value of Your Library
Return on Information and Return on Investment. Feel good about how far your library dollar goes- please visit our Library Value Calculator to learn how much you save!
Wire-less Internet at your Library!
See the World from Your Community in Galway, NY. USA