Welcome to the Galway Public Library, a member of the Southern Adirondack Library system serving the Galway Central School District community.

The Library Board of Trustees is inviting applications for the open position of Library Director. For full details: Library Director (pdf).
The Library Board of Trustees is pleased to announce the appointment of Debra Flint to the position of Interim Director, effective December 2, 2013, due to the resignation of Regina Doi from her position as Library Director, effective 12/1/2013. Deb has been on staff at our library since 2007, serving as Library Clerk, Library Assistant, and most recently as Senior Clerk.

There is a vacant seat on the library Board of Trustees. This presents an opportunity for you to help your library grow, to have a say in what the library offers to the community, and to give back to the library and the community as you volunteer your time and talents on the board! Those interested in the position must submit a letter of interest immediately to the Library Director at P.O Box 207 Galway NY 12074 or by email to  director@galwaypubliclibrary.org. The term will last until the next general election in June 2014. The board meets regularly on first and third Tuesdays, at 7pm at the library.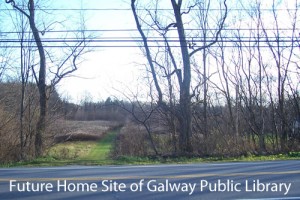 We are pleased to announce that the Board of Trustees recently closed on the purchase of approximately 13 acres of vacant land located in the Village of Galway for the future site of the new Galway Public Library facility. Purchase of this land is part of the library's larger project plan to construct a new library building that will provide much needed space for improved access to collections, programs, technology services, community meeting space, and parking, as well as handicap accessibility. Funds for the land purchase of $103,500 came from the Dockstader Charitable Trust ($75,000)and the Library's Donor Designated Capital Funds ($28,500).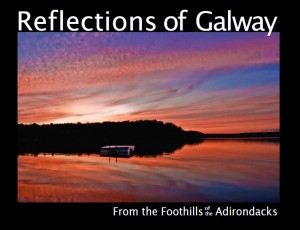 The coffee table book, Reflections of Galway: From the Foothills of the Adirondacks, is once again being offered for purchase at the library for $29.95. Quantities are limited so don't miss out again. See all of the art, photography and writings submitted by your talented neighbors on the Reflections of Galway website.
  ART IN THE LIBRARY!
 Do you enjoy viewing the work of local artists? Look up and to the right when you enter the library to see the featured Artist of the Month. 
Are you an artist? 
Sign up at the front desk if you'd like to participate. Each display is featured from the 15th of the month through the 15th of the next month.

NEW!!!!  FREADING E-book download service! No more waiting for the book you want to download and read! Freading™has its own apps for the iPad® and iPhone®, and its own apps for Android™ tablets and phones. Freading is also compatible with the Kindle Fire, the NOOK devices, and Kobo devices. All you need is your Galway Public Library card number!
NOOKs and Kindles- Oh MY!! Be sure to check out our NOOKs and Kindles pre-loaded with best-sellers, newspapers, and magazines! Also please be sure to check out the Vinci and nabi digital tablets for kids, pre-loaded with educational programs and e-books! And please take a moment to fill out our new survey about children's programming, on the tab above.
 Don't forget our free museum passes!


Children's Museum of Science and Technology (CMOST). Information about their upcoming programs can be found on our Bulletin Board page. Click here to see a list of all the museums this pass entitles you to visit.  Hyde Museum pass - visit the world famous Hyde Art Collection in Glens Falls, NY.

The Children's Museum at Saratoga provides positive opportunities for learning in an interactive setting. Learn about science, history, community living and the arts by exploring the museum's hands-on exhibits. Galway Public Library card holders can visit with a family limit of four per pass.

Schenectady Museum and Suits Bueche Planetarium MiSCi passes are in! Free family access to the museum and planetarium!  
Our Regularly Scheduled Library Groups
| | |
| --- | --- |
| | |
| | The Writers' Group now meets on the FOURTH Tuesday of each month at 7 p.m. [Please note, however, that the December 2013 meeting will be held on Dec. 17th.] The group welcomes beginners as well as published writers. Share your poetry, fiction or non-fiction in this friendly, helpful group. To be added to the email list for reminders about meeting dates and other writing opportunities, contact director@galwaypubliclibrary.org or writersgroupgpl@gmail.com. You can learn more about the group, sample some of their writing, and find inspiration for your own writing, at http://galwaypubliclibrary.org/writersgroup/ |
| | When Readers Meet - Our monthly book group – is a lively reading and discussion gathering meeting every fourth Monday (except December) from 7 pm-9 pm at the Galway Public Library. Join us January 27th for The Round House by Louise Erdrich. |
| | On February 24, 2014, we will discuss The Red Garden by Alice Hoffman. |

Thank you for using Ask Us 24/7 - a service of cooperating New York State libraries and library systems, including the New York 3Rs Library Councils. Click the Ask us Link, enter your question, and a librarian will be with you shortly. You will not necessarily be chatting with a librarian from your local library or even your community. This is a global, cooperative service staffed by reference librarians from New York State, as well as other states and countries.
ROI: The Value of Your Library
Return on Information and Return on Investment. Feel good about how far your library dollar goes- please visit our Library Value Calculator to learn how much you save!
Wire-less Internet at your Library!
See the World from Your Community in Galway, NY. USA